BOONE'S CREEK PADDLE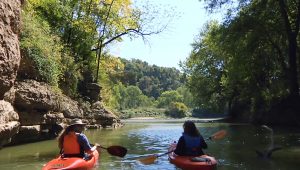 Carrie takes special guest, Amy Sohner of Bluegrass Greensource on a kayak trip on the Kentucky River to picturesque Boone's Creek, near Clay's Ferry.
Join the ladies as they enlighten us about the environmental condition of some Bluegrass waterways as well as why these waters play a critical role as a source of our drinking water for a very large percentage of the state's population.  Can you guess what the "healthiest" waterway in Kentucky is?
Sponsored by