NEW EDUCATIONAL TRAVEL ADVENTURE TELEVISION SERIES FEATURES KENTUCKY'S LIQUIDS
 Party Barges, River Races, Country Boys & Very Old Wine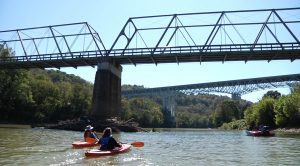 Lexington, KY—Emmy nominated, Kentucky based Prosper Media Group, Inc announces its latest installment of the educational travel adventure series "DOWNSTREAM", currently airing on KET. Come discover the Kentucky River, including majestic Boone Creek, as well as the historic lock and museum at Boonesboro. Kentucky's first 255 mile river race gets really wet and craft brews abound with featured stories on Country Boy Brewing. Did you know the first commercial vineyard in North America started in Jessamine County and had wines sent to Thomas Jefferson for sampling? We'll finish up the show with a visit to First Vineyard, along the Kentucky River.

Airing throughout the year on the KET family of channels as well as regional stations in Paducah, Louisville, Northern Kentucky and the Bluegrass region.
KETKY: Mon, 6/12 at 5:30a ET
KETKY: Thur, 6/5 at 7:30p ET
KET: Sun, 6/18 at 3:30p ET
KET: Thur, 6/22 at 12:30a ET
KET2: Mon, 6/26 at 12:00a ET
KETKY: Mon, 6/26 at 5:30a ET
KET2: Sun, 7/9 at 12:30a ET
KETKY: Thur, 8/3 at 10:00p ET
KETKY: Tuesday, 8/15 at 1:30p ET
KETKY: Monday, 8/28 at 7:30a ET
A NEW travel adventure show about Kentucky's Rivers, Lakes, Streams, Spirits, Brews & Wines.
Kentucky has over 90,000 miles of lakes rivers and streams and features an endless amount of water front acreage. It's also quite famous for some of the world's best known distilleries. This show will explore the secrets and histories of our intricate waterways in a recreational context with sidebars (excuse the pun) to the state's distilleries, breweries and wineries. The Downstream television show will be an educational travel series with a POV perspective, somewhat scripted, somewhat un-scripted, reality based adventures.
More Information, show samples, past episodes, and a look behind the scenes can be found on the show's website: https://liquidkentucky.com/  or by calling 888.528.1999
###