FALLS OF THE OHIO LOUISVILLE KY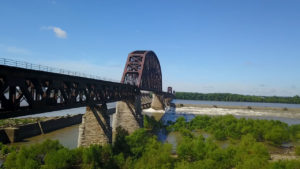 We kick off our fourth episode at the Falls of the Ohio in Louisville, KY; Carrie catches up with Ranger Dale Brown at the Falls of the Ohio State Park, just across the river from Louisville in Clarksville, Indiana. Watch this segment to learn why the Falls are the reason the metropolis of Louisville is here today and discover some very impressive fossils along the way.  The Falls supports one of the largest fossil beds in North America! We also learn that this can be a fun but possibly precarious kayak adventure, but probably NOT for the novice paddler.
Be sure to watch the full episode, online NOW.
Sponsored by Louisville MSD http://louisvillemsd.org/
Learn more by visiting: https://www.fallsoftheohio.org/