AGAINST THE GRAIN LOUISVILLE KY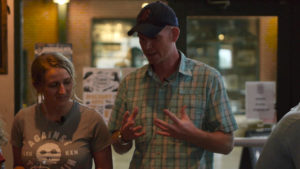 Have you ever met HOP, SMOKE, DARK, MALT, SESSION, or WHIM? If not, then you probably haven't visited Against the Grain Brewery in Louisville, KY. Well we have and we met them all! (Some would even say we're close friends now.)  Having produced dozens and dozens and dozens of different beer flavor profiles, this is one place not afraid of a little experimentation and going in a direction, few others tread.  We met with the founders and learned the meaning of all this flavor madness. And we sampled some too. Maybe more than two. Or Three.
Be sure to watch the full episode, online NOW.
Sponsored by Louisville Water http://www.louisvillewater.com/ 
Learn more by visiting: http://www.atgbrewery.com/